History of the Douglas International Bonspiel
Named after curler, golfer, lyricist, and lawyer, Archibald Douglas, the Douglas Bonspiel is the 2nd oldest club run bonspiel in the United States. Originally held at St. Andrews Curling Club, this bonspiel dates back to 1935, when Archibald donated the Douglas Trophy, "one of the most prized trophies in internatioanl curling" according to the book St. Andrews Golf Club.
St. Andrews is the oldest golf club in America, originally founded in 1888 in Yonkers, NY. In 1900 it moved to its current location and in 1904 added curling on its outdoor pond below the 17th green. It wasn't until 1931 that St. Andrews built its own indoor curling rink, in part to keep up with their neighbors to the northeast -- The Country Club in Brookline, MA, which had done the same in 1922. Because St. Andrews only had 30 members....all men in those days...they rented out vacant ice time to other curling clubs in the area including Mahopac CC, The NY Caledonians, and beginning in 1932, the newly formed Ardsley Curling Club.
In the 1980's new ownership of St. Andrews decided to remove the curling facility. By this time, the Ardsley Curling Club had built its own facility in the location where it still stands today. As a result, the St. Andrews Curling Club began using the Ardsley Club as its home rink. In 1988, the Douglas bonspiel was merged with the New York International Bonspiel formerly hosted by Ardsley and the New York Caledonian Curling Club.
In the photo below, Archibald Douglas, founder of the bonspiel and St. Andrews Curling Club president from 1926-1928 is the third from the left.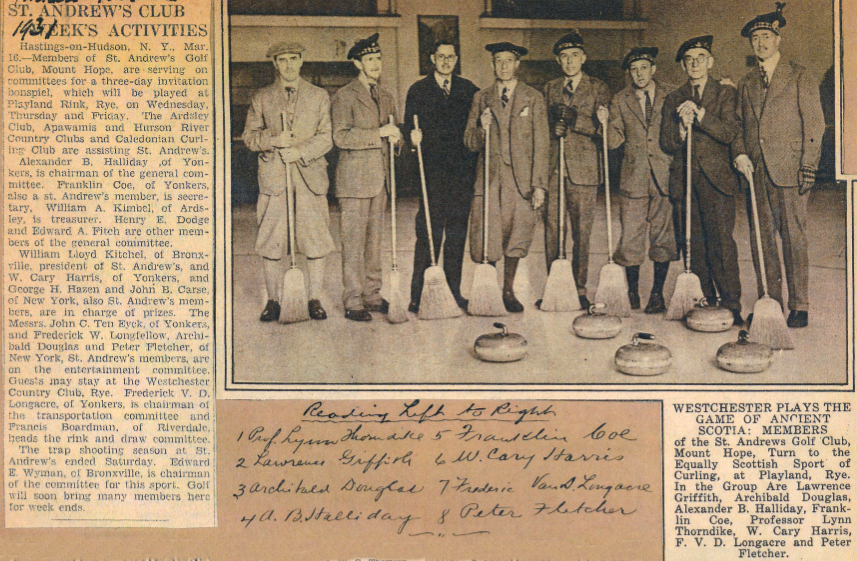 ---
from the Historical Archives of the Ardsley Curling Club